Show notes
Anil Seth is Professor of Cognitive and Computational Neuroscience at the University of Sussex alongside other eminent roles in the field of advanced research into the nature of consciousness and perception. His bestselling book 'Being You: A New Science of Consciousness' is a masterpiece of making complex scientific issues accessible to the non-expert reader.
Anil demonstrates that same skill in this relaxed and free-flowing discussion with Politics on the Couch host Rafael Behr. They talk about the essence of what it means to be a conscious being, whether we can ever be said to experience objective reality, whether our present self is really the same as our past self and some of the moral, philosophical and political issues provoked by those questions.
For more information on Professor Seth and 'Being You', visit https://www.anilseth.com/
Here's the perception census he mentions in the podcast: https://perceptioncensus.dreamachine.world
For more on Rafael Behr visit https://rafaelbehr.com
Hosts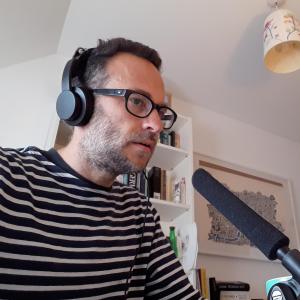 Rafael Behr
Rafael Behr is a political columnist for the Guardian. He is a former Political Editor for the New Statesman, Chief Leader Writer and Online Editor for The Observer, a business news reporter for BBC online and a foreign correspondent for the Financial Times, based in the Baltic region and Russia. Rafael is a regular contributor to Prospect Magazine, a guest on BBC and Sky News and a speaker at UK think tanks. His book, Politics, A Survivor's Guide, is published by Atlantic. He hosts the Politics on the Couch podcast. Before becoming a journalist, Rafael was a political risk analyst covering countries of Eastern Europe and the former Soviet Union. He studied modern languages Merton College, Oxford and took a Master's degree in Russian Studies at the School for Slavonic and East European Studies, University College London. He lives in Brighton with his family. He plays the guitar and harmonica, sometimes simultaneously, not always melodiously.
View episodes
Guests