Show notes
In this wide-ranging and informal conversation*, Rafael Behr chats to former colleague Helen Lewis about whether Whatsapp has changed the way politics is conducted, her favourite Tik Tok channel, the incestous nature of Scottish politics, what's really behind the UK government's immigration policy, what we can learn from Florida culture wars, why the middle ground is so hard to occupy, what we have learnt from the pandemic, and Helen's take on why so many men love listening to other men on podcasts, plus much more.
*unstructured
Helen Lewis
Helen writes about the intersection of politics, society, and digital culture for The Atlantic.
Link to Helen's long read on DeSantis, Trump and the future of American politics for The Atlantic
She is also the host of the BBC's long-form interview series, The Spark.
Her next book, The Selfish Genius, is scheduled for publication in 2023.
Link to 'The Bluestocking,' Helen's substack page.
Rafael Behr has a book out very soon about politics
If you're interested here's a link to pre-order:
https://www.amazon.co.uk/Politics-Survivors-Engaged-without-Getting/dp/1838955046/
Now on with the podcast show we call Politics on the Couch.
This podcast is hosted by ZenCast.fm
Hosts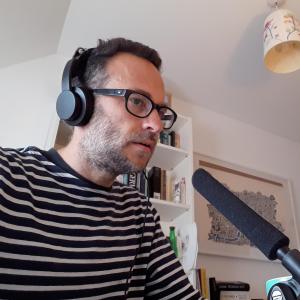 Rafael Behr
Rafael Behr is a political columnist for the Guardian. He is a former Political Editor for the New Statesman, Chief Leader Writer and Online Editor for The Observer, a business news reporter for BBC online and a foreign correspondent for the Financial Times, based in the Baltic region and Russia. Rafael is a regular contributor to Prospect Magazine, a guest on BBC and Sky News and a speaker at UK think tanks. His book, Politics, A Survivor's Guide, is published by Atlantic. He hosts the Politics on the Couch podcast. Before becoming a journalist, Rafael was a political risk analyst covering countries of Eastern Europe and the former Soviet Union. He studied modern languages Merton College, Oxford and took a Master's degree in Russian Studies at the School for Slavonic and East European Studies, University College London. He lives in Brighton with his family. He plays the guitar and harmonica, sometimes simultaneously, not always melodiously.
View episodes
Guests