Show notes
Rafael Behr talks to Meg Russell, Director of the Constitution Unit and co-author, along with Research Fellow Lisa James, of a new book called: The Parliamentary Battle over Brexit, a detailed account of the extraordinary way the Brexit process played out in parliament.
Since the 2016 referendum, the hotly contested issue of Brexit has raised fundamental questions about the workings of British democracy. Nowhere was this more true than regarding the role of parliament. This book addresses important questions about parliament's role in the UK constitution, and the impact on this of the Brexit process. While initially intended to re-establish 'parliamentary sovereignty', Brexit wrought significant damage on the reputation of parliament, and the wider culture of UK democracy.
This book is published as part of the 'Brexit, Parliament and the Constitution' project, funded through Constitution Unit Director Meg Russell's Senior Fellowship with the ESRC-funded UK in a Changing Europe (UKICE) programme.
For more about the book (and a 30% discount code) see this link:
https://www.ucl.ac.uk/constitution-unit/parliamentary-battle-over-brexit
This podcast is hosted by ZenCast.fm
Hosts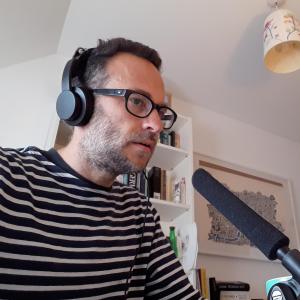 Rafael Behr
Rafael Behr is a political columnist for the Guardian. He is a former Political Editor for the New Statesman, Chief Leader Writer and Online Editor for The Observer, a business news reporter for BBC online and a foreign correspondent for the Financial Times, based in the Baltic region and Russia. Rafael is a regular contributor to Prospect Magazine, a guest on BBC and Sky News and a speaker at UK think tanks. His book, Politics, A Survivor's Guide, is published by Atlantic. He hosts the Politics on the Couch podcast. Before becoming a journalist, Rafael was a political risk analyst covering countries of Eastern Europe and the former Soviet Union. He studied modern languages Merton College, Oxford and took a Master's degree in Russian Studies at the School for Slavonic and East European Studies, University College London. He lives in Brighton with his family. He plays the guitar and harmonica, sometimes simultaneously, not always melodiously.
View episodes
Guests
Meg Russell
Professor Meg Russell FBA is Director of the Constitution Unit at University College London. She has a particular expert on parliament, and has written four books and numerous papers and reports on the institution and its reform. She has served previously as specialist adviser to several select committees, and to the Leader of the House of Commons. From 2019-22 she was a Senior Fellow with the UK in a Changing Europe.
View episodes