Show notes
This week, Rafael Behr and Professor Helen Thompson discuss her new book Disorder: Hard Times in the 21st Century.
The book, which was released on the day Russia invaded Ukraine in February 2022, recounts three histories—one about geopolitics, one about the world economy, and one about western democracies.
She explains how a confluence of different crises, building over many years, has created the current mood of global, epoch-defining disorder.
It shows how much of this turbulence originated in problems generated by fossil-fuel energies, and it explains why, as the green transition takes place, the longstanding predicaments energy invariably shapes will remain in place.
In light of her new book and the war raging in Ukraine, in this edition of Politics on the Couch Rafael and Helen discuss a wide-range of ideas and issues:
Topics discussed:
Was the Russian invasion of Ukraine an inflection point in history and how do we know if we're living through one?
Do individuals and charismatic personalities shape history or merely express longer-running trends and bigger forces?
Does Johnson have any ideology? If so, what is it?
Can the year we're born can shape our optimism about the future?
Has the pandemic affected the way citizens view making big sacrifices for a greater good?
How can strong political identities be forged from adversity?
Do Western liberal democracies have the capacity to drive through the change needed to make the green transition?
Is China as an authoritarian state at an advantage?
What lessons has the Ukrainian war taught us about energy policy and green transition?
Politics on the Couch has been chosen by Feedspot as one of the Top 25 UK Psychology Podcasts and Top 25 Political Science Podcasts on the web.
https://blog.feedspot.com/uk_psychology_podcasts
Hosts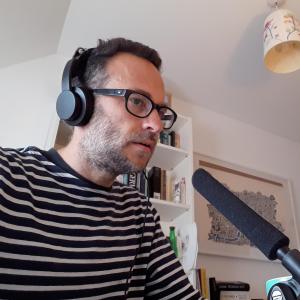 Rafael Behr
Rafael Behr is a political columnist for the Guardian. He is a former Political Editor for the New Statesman, Chief Leader Writer and Online Editor for The Observer, a business news reporter for BBC online and a foreign correspondent for the Financial Times, based in the Baltic region and Russia. Rafael is a regular contributor to Prospect Magazine, a guest on BBC and Sky News and a speaker at UK think tanks. His book, Politics, A Survivor's Guide, is published by Atlantic. He hosts the Politics on the Couch podcast. Before becoming a journalist, Rafael was a political risk analyst covering countries of Eastern Europe and the former Soviet Union. He studied modern languages Merton College, Oxford and took a Master's degree in Russian Studies at the School for Slavonic and East European Studies, University College London. He lives in Brighton with his family. He plays the guitar and harmonica, sometimes simultaneously, not always melodiously.
View episodes
Guests